I belong to no religion. My religion is Love. Every heart is my temple.
~ Rumi
When there is no place you've decided to call your own, no matter where you go, you are always heading home.
~ Muso Soseki
Out beyond ideas of wrongdoing and rightdoing, there is a field. I will meet you there.
~ Rumi
Blessed Be
Logos
the path between opposites made manifest
pilgrim
a wanderer, a person who journeys
Trevor Goodchild: Whose side are you on?
Aeon Flux: I take no side.
Trevor Goodchild: You're skating the edge.
Aeon Flux: I am the edge.
Logospilgrim is a small genderqueer person, a renegade and cosmic love vagabond who likes to write about Professor Severus Snape, spiritual transformation and mysticism; she is the author of several books, all of which are available on her website, logospilgrim.com (certain titles can also be purchased on amazon.com). She has spoken at a number of Harry Potter conventions, including Witching Hour, Lumos, Prophecy, Convention Alley, Infinitus, Aeternitas and Ascendio. She has a degree in Religious Studies and enjoys collecting curiosities. She may be somewhat of a curiosity herself. When she is not writing,  she gazing at trees and the sky, and pondering life, the universe, and everything… She is also known as the quiet professor.
She is a religious pluralist (she views all the great and lesser known spiritual traditions as independently valid agents of human transformation), an interspiritual mystic, a syncretist, a Universalist (in the sense that she believes all human beings are positively nurtured by the Ultimate, however the Transcendent is perceived and understood, whether in personal or transpersonal terms). Her strongest spiritual influences are Taoism, Neo-Paganism, Buddhism and certain forms of Gnostic Christianity. She practices solitary magick and attends quiet services at a small Anglican church.
harmony within, harmony without, peace prevailing always
She will be present at MISTI-Con in New Hampshire this spring, where she will sign copies of her upcoming book, Blessed: how to be a joyful mystic, as well as her most recent book of essays, The Severus Snape Paradigm: Outcast, Rebel, Hero. She will also be rambling (again!); her presentation will be called "Occlumency: the art of meditation".
She loves to express her ideas and convictions through symbolic apparel.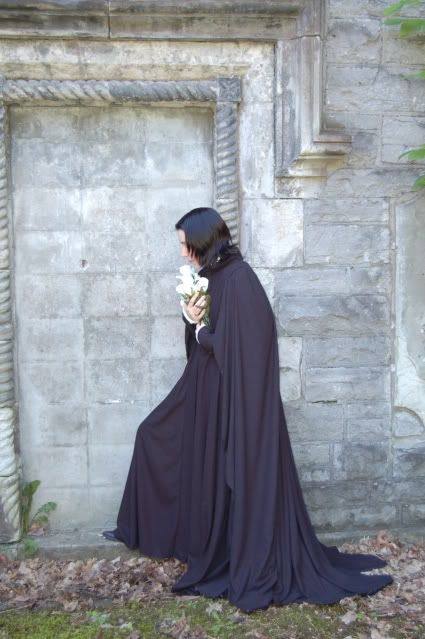 Many of photographs on this website were taken by Logospilgrim's talented friend, Diane. Her robes, as pictured above, were crafted by another talented friend, Belluthien.
Eternal devotion to outcasts and the marginalized is her vocation; her calling card is Love, Hope and Freedom.
The costume she is wearing in the photograph above was made by yet another talented friend, Nezumi.
You are the lilies I hold against my heart.
~Logospilgrim
Our own life has to be our message.
~Thich Nhat Hahn
May all beings be filled with loving kindness,
May all beings be well,
May all beings be peaceful and at ease,
May all beings be happy,
May all beings awaken to the light of their true nature,
May all beings be free.
The ultimate referent of religious mythology is the Transcendent, the eternally Real, experienced in different ways within the different religious traditions. And in so far as these different perceptions, formed by different sets of human concepts, are valid they are in soteriological alignment with the transcendent Reality, so that in living in right relationship to any one of these manifestations of the Real we are rightly related to the Real itself. For on a religious understanding of them the great world faiths are genuine (though not therefore perfect) human responses to the Transcendent, constituting contexts within which men and women are transformed from self-centredness to Reality-centredness.
~ John Hick, The Metaphor of God Incarnate: Christology in a Pluralistic Age
Some of Logospilgrim's cassocks of many buttons and flowing cloaks were designed by Kambriel.